Every year I love to take my family to Lake Powell, located in southern Utah.
There is something about going to a place where there is nothing but good food, boating, naps, reading books, and the company of good friends, family, and my sweet wife that calms the mind and stills the soul.  What makes it even better is that there is no internet and no cell phone coverage!  It is fantastic to just relax and take it easy!
This year, I came prepared to shoot the milky way during the night.
There is no light pollution at Lake Powell.  When the sun goes down, you can see millions of stars, including satellites, airplanes, and shooting stars.  One year, as I put my kids to bed, we just laid up on top of the houseboat and watched a meteor shower.  There were hundreds of streaks in the air and we just watched for hours.  It was incredible!
Here is my favorite Lake Powell Milky Way photograph that I took while I was there.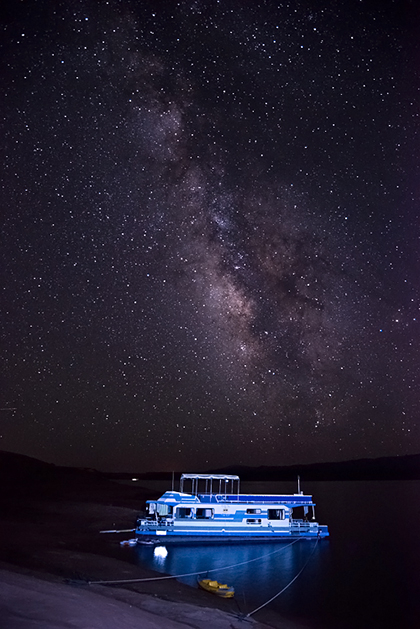 Lake Powell Milky Way Photograph Image Details:
Nikon D810
ISO 3200
Nikkor 24-120 F4 Lens
Shutter Speed 20 Seconds
Aperature set at F4
Manfrotto Carbon Fiber Tripod